About Bella Cucina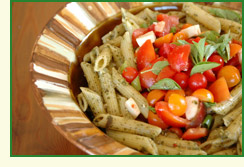 It's all about the food! Growing up in an Italian family, was there anything else in life? From an early age I learned that no matter the occasion, everyone remembered the meal. With that in mind, I have made it my goal to create fresh and delicious food for my clients. I want every one of your guests to remember your special occasion for years to come.
At Bella Cucina, we specialize in seasonal customized menus that garner rave reviews. Our success is a result of listening to our clients and working hard to exceed their expectations. Some clients prefer we drop off the meal and others ask us to handle all the details from start to finish. Regardless of your preference, you will find our customer service and attention to detail is beyond compare.
I look forward to working with you on your next special event.

Anna Marie Mangili
Owner